Dr. George Truskey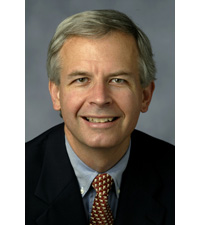 Professor and Chair of Biomedical Engineering
Biomedical Engineering
Duke University
Durham, NC 27708-0281
Telephone: (919) 660-5147
Fax: (919) 684-4488
Education:
Ph.D. in Chemical Engineering, MIT (1985)
B.S.E. in Bioengineering, UPen (1979)
Dr. George A. Truskey, Ph.D., is Professor and Chair of the Department of Biomedical Engineering at Duke University. He also directs the department's Translational Research Partnership with the Coulter Foundation. He received a B.S.E. in Bioengineering, magna cum laude, from the University of Pennsylvania in 1979 and a Ph.D. in Chemical Engineering from the Massachusetts Institute of Technology in 1985. Prior to joining the faculty at Duke in 1987 he was a Research Fellow in Experimental Pathology, Brigham and Women's Hospital, Harvard Medical School and an Assistant Professor, Department of Chemical Engineering, Tufts University. Dr. Truskey's research interests are in cardiovascular engineering, tissue engineering, cell-material interactions and cell adhesion. He is the author of over 90 peer-reviewed research papers, a biomedical engineering textbook entitled Transport Phenomena in Biological Systems, five book chapters, and over 160 research abstracts and presentations. He is a Fellow of the Biomedical Engineering Society (BMES), the American Institute for Medical and Biological Engineering (AIMBE) and a Fellow of the American Heart Association. He has served on review panels for the NIH, NSF, North Carolina Biotechnology Center and the Whitaker Foundation. He has served as a member of the Board of Directors of the BMES and AIMBE and was president of BMES from 2008 to 2010. He has consulted for a number of medical device companies and start-ups. Dr. Truskey's research has been funded by NIH, NSF, NASA, the Whitaker Foundation, the American Heart Association and Medtronic Corporation.