ERC team visit Hannover Medical School and GKSS
Report from Dr. Borovetz, Executive Director of ERC
A team of scientists from the ERC visited Germany (December 9-14, 2008) to initiate strategic research and educational activities with the Presidents, Directors and scientists of the Hannover Medical School (MHH) - Germany, GKSS (Germany's federally funded research facility equivalent to the US- Department of Energy facility, NETL) and Gabriel Lippmann Institute, Luxembourg. The visit brought the entire group closer with focused international initiatives to conduct outstanding research and education in the science and engineering of biodegradable metallic materials for a variety of medical applications. The team at present is looking at various avenues to interface its present global research and educational vision to best fit the ERC program. The idea is aimed at conducting globalized research coupled with multiple site distance learning, while integrating global entrepreneurial ideas for creating the next generation workforce to undertake and solve a variety of complex problems facing the medical field.
The Germany trip is a bit more difficult to summarize, in part because it took Dr. Kumta and I two full days to travel from Pittsburgh to Hannover; so we missed all the planned activities (see attached itinerary from Dr. Witte) scheduled for December 10 and December 11.

Our visit to Hannover Medical School (HMS) on December 12 was very worthwhile.
We were greeted by the President of HMS and research director and learned about the very impressive growth of HMS, which is only 40 years old. We learned about HMS' very impressive program in regenerative medicine (REBIRTH), which evolved from HMS' efforts in organ transplantation. There is a website for REBIRTH, but I seem to have misplaced it (perhaps Dr. Witte can provide it). We talked with the leadership of REBIRTH about sharing courses, seminars, etc. This may be possible.

Saturday, for me, was a highlight of the visit. We traveled to Hamburg to visit the DESY Synchrotron facility, which to me is like a smaller CERN particle collider.

There are marvelous facilities also that allow resolution of materials structures to the nano level; which is certainly relevant to our efforts in designing biodegradable metals.


We also made a visit to GKSS and met with Dr. Hort who gave us a tour of his very impressive facilities. Dr. Hort and GKSS are very interested in collaborating with our ERC.
Interestingly, a significant percentage of the overall GKSS budget is now being directed towards bio-based activities.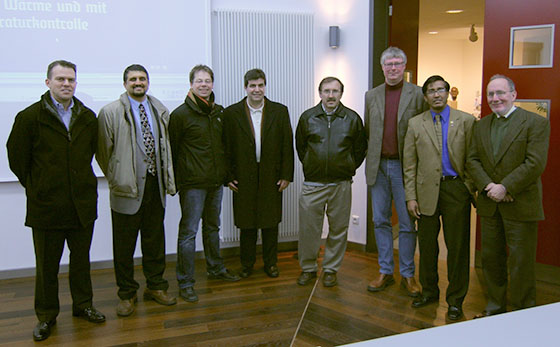 Saturday ended with a wonderful tour of downtown Hannover which was fully in the midst of family oriented holiday activities.
We departed Sunday and to my best knowledge, we all returned safely to the US.