NC A&T State University Researcher Receives UNC's Highest Faculty Honor
April 9, 2010
http://www.northcarolina.edu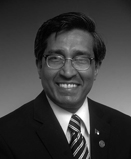 Dr. Jagannathan Sankar, Distinguished University Professor of mechanical and chemical engineering and White House Millennium Researcher at North Carolina Agricultural &Technical State University, received the O. Max Gardner Award today (Friday, April 9) from the Board of Governors of the multi-campus University of North Carolina. Recognized as one of the world's leading authorities on the development of advanced biomaterials and smart structures, Sankar's work has enormous potential for improving medical implants and surgical procedures and enabling advances in adaptive engineering, construction safety, and homeland security.

The awards, given annually since 1949, were established by the will of Gov. Oliver Max Gardner to recognize faculty who have "made the greatest contributions to the welfare of the human race." It is the only award for which all faculty members of the 17 UNC campuses are eligible. Recipients are nominated by their chancellors and selected by the Board of Governors. The 2010 award carries a $20,000 cash prize and was presented by Board of Governors Chairman Hannah Gage and Gardner Award Committee Chairman Fred Mills of Raleigh.

A member of the NC A&T faculty for the past 27 years, Sankar's scientific interests began at the University of Madras in his native India, where he earned an undergraduate degree in metallurgical engineering. He then earned a master's degree in materials engineering at Concordia University in Canada and a doctorate in metallurgy and materials engineering at Lehigh University in Pennsylvania. He joined the NC A&T faculty as an assistant professor immediately after earning his Ph.D. in 1983, and rose rapidly through the academic ranks.

Over the course of his tenure, Sankar has methodically built the research capacity and the physical infrastructure that was necessary for NC A&T to become a key player in federally funded research. He also serves as director of the Center for Advanced Materials and Smart Structures, director and principal investigator for the Navy Center for Nanoscience and Nanomaterials, and site coordinator for the National Science Foundation's (NSF) Nanoscale Science and Engineering Center. Also under his leadership, NC A&T was chosen last year to house the NSF's Engineering Research Center for Revolutionizing Metallic Biomaterials. NC A&T is the first historically black university in the nation to ever be awarded one of these prestigious NSF centers, which will channel more than $18 million to NC A&T researchers over five years.

Through these centers, Sankar and the international team of collaborators he has assembled have positioned NC A&T to revolutionize metallic biomaterials and the technology used to create them. The development of "smart" implants that could actually grow with the body and dissolve when no longer needed could lead to life-altering surgical advances and dramatically improve treatments for cardiovascular, orthopedic, and craniofacial ailments. His work on smart sensors also has enormous implications for improving adaptive engineering, bridge and construction safety, and homeland security.

The author of more than 400 peer-reviewed articles, book chapters, and scientific papers, Sankar has generated more than $45 million of competitive research funding for NC A&T, filed ten patent and invention disclosures, and presented at scores of scientific conferences around the globe. Over the course of his career, he has received numerous awards and accolades for the excellence of his work. His many academic and professional honors include NC A&T's Teaching Excellence Award, Engineering Faculty of the Year Award, and Outstanding Senior Researcher Award; the White House Millennium Research Award; and the American Association for the Advancement of Science National Mentor Award. He also has been named a fellow of the National Institute of Aerospace.