College Education
The ongoing goal of the NSF ERC-RMB's university education programs is to prepare a highly diverse and globally experienced and innovative engineering workforce for the U.S. biomedical implant industry and university faculty in engineering and medicine. The NSF ERC-RMB trains future generations of engineers in a unique, multi‑disciplinary, innovation‑oriented environment. The approach integrates traditional and emerging engineering disciplines with industrial experience, experience with medicine along with exposure to social, regulatory, ethical and economic issues involved in innovation in a medical context. In collaboration with its innovation partners, the NSF ERC-RMB continues to develop curricular materials to train engineering students in the art and science of fostering research innovation, which will enable them to work alongside teams engaged in medical implant innovation in Europe and India to provide them with globally competitive entrepreneurial skills. Students from the lead and two partner universities, and three outreach institutions: California State University, Los Angeles; Edmonds Community College, Seattle, WA; and Guilford Technical community College, Greensboro, NC; benefit from these education programs as well. Undergraduate students from universities outside the NSF ERC-RMB's partners are also involved in the NSF ERC-RMB through a Research Experiences for Undergraduates (REU) Program. Summer 2016 is the eighth summer of our annual REU programming.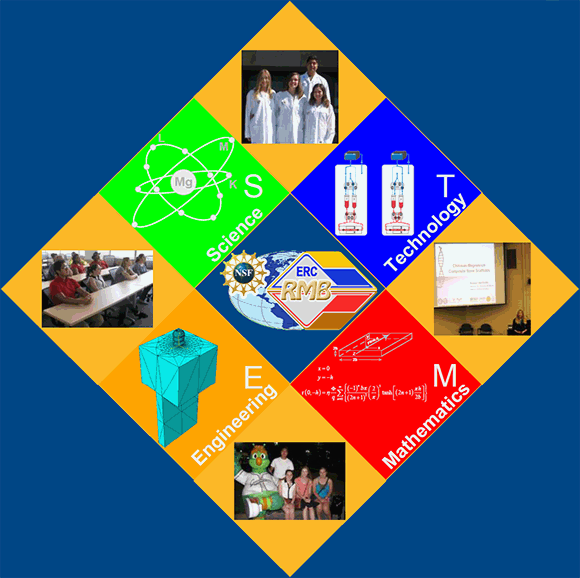 ERC‑RMB REU Images Summer 2015
One of the major foundations of the NSF ERC-RMB's education program is the establishment of a department of bioengineering at NC A and T State Univesity, which offers B.S. and M.S. degree programs and will offer a Ph.D. program. The curricular materials developed by the NSF ERC-RMB will be a foundation for this department's curriculum. The NSF ERC-RMB=s educational materials are derived from its research.
Use the following links to access current information about the NSF ERC-RMB=s REU Program. Also provided below are the required application forms to be completed.