Pre-College Education Program
The pre-college educational partnership will be built on partnerships in communities in North Carolina. The program will integrate experiences for students in Grades 6-12 by providing curricular materials that include a "palette" of devices capable of being understood by non-technical persons and children and to strengthen their understanding of the science and technology principles underlying bioengineering applications. There will be workshops for guidance counselors at regional middle and high schools and the ERC will provide information for parents and students on careers in engineering and life sciences, and on the secondary courses needed to prepare for engineering admission.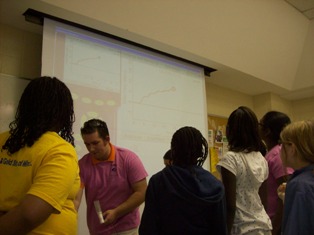 During the school year the team works with local schools, the local girl scouts as shown above and others to increase knowledge of this exciting field. The team works to improve teacher expertise in bioengineering through a Research Experiences for Teachers (RET) program, where the ERC will offer research experiences every summer, with stipends for at least two teachers from each participating middle and high school. They will develop inquiry-based materials to interest students in bioengineering, which address national and state (NC/PA/OH) standards for science education. The ERC will offer a three-week curriculum development workshop for three-teacher (science, technology and math) teams from each school. High school students (Young Scholars) will develop Web-based lab experiments and video-based materials and materials for class projects, illustrating fundamental scientific and engineering principles. The ERC plans to extend the geographical reach of these initiatives through a traveling display (van-based) and an extensive cyberinfrastructure.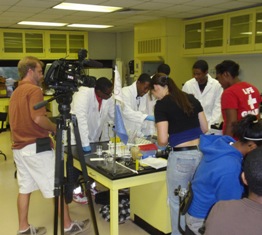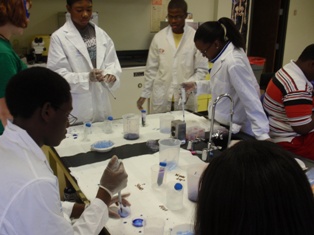 Local news crews come to film the innovative efforts of the students as they build a scaffold and work towards creating better tissues.
RET Program
Our activities include Research Experience for Teachers (RET) program in which K-14 teachers participate in technical research as part of a scientific research community. We offer opportunities for teachers of science, math and technology to work with LSMM research scientists and engineers at North Carolina A&T State University. Participants will have the chance to work with faculty/graduate student teams on their ongoing research program. We have access to guidance from School of Education on development of modules for use back at the home institution with help in deploying it in their classrooms (materials/supplies). Step by step instruction and experience is given in preparing hands-on activities that will stimulate student interest in emerging fields of Nano Technology and Material Science. RET and REU program collaboration with NC A&T's ERC program is available.