US-German Research Collaboration & Global Student Exchange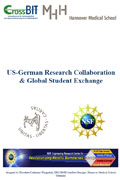 Professor Frank Witte has initiated and created a unique alliance together with the University of Pittsburgh, the University of Cincinnati and the North Carolina A&T State University. Professor Witte researches processes that enhance the fundamental knowledge and technology in the field of revolutionizing metallic biomaterials in order to improve biodegradable magnesium based metal implants. As the Engineering Research Center-Revolutionizing Metallic Biomaterials (ERC-RMB) Global Site Coordinator, Professor Witte aims to create a global research environment in order to equip his students with the necessary global world vision, the latest technology know-how in the field and required leadership skills that will be needed when entering the work force.
This summer, five students from the University of Pittsburgh were in Hannover, Germany and performed their research at the laboratories of Hannover Medical School. Professor Witte's program requires each student to develop research strategy and follow through with a research project that they present before exiting the program. A committee will then gives constructive feedback and evaluate the students on their work and commitment to the program.