4th ERC-RMB Student Association newsletter is released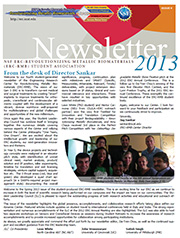 Welcome to the Spring 2013 issue of the student-produced ERC-RMB newsletter. This is an exciting time for our ERC as we continue to increase in both the level of scientific research being performed on our campuses and the impact we have on our communities. The Student Leadership Council (SLC) is pleased to report the outstanding progress of both research activities and educational and outreach efforts.
This issue of the newsletter highlights the global presence, accomplishments, and collaborative research efforts taking place within our dynamic Center. Featured articles include updates on student travel to international conferences held in Italy and India. The strong representation and numerous accomplishments of the SLC at the 2012 ERC Annual Meeting are also highlighted. The SLC was also able to host two separate workshops on Sensors and Craniofacial Devices as sessions during Student Retreats to increase the awareness of research accomplishments and to provide increased opportunities for collaboration among participating institutions.
As always, we greatly appreciate and commend the effort put forth by our newsletter editor, Da-Tren Chou, as well as the continued support and excellent guidance from the ERC leadership team.
Download 4th ERC-RMB Student Association Newsletter (10.8 Mb)