North Carolina A&T State University
NSF Engineering Research Center + Bioengineering Joint Seminar Series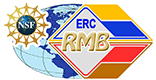 General Elements of Intellectual Property and the Copyright Law
by
Edward W. Rilee, J.D.
MacCord & Mason PLLC
Greensboro and Wilmington, NC
11 AM – 11:50 AM – Friday, April 25, 2014
McNair Hall Auditorium – College of Engineering
Abstract:
Intellectual Property is a small but important part of the law that each of us has contact with on a daily basis. It is not a single body of laws but has several distinct areas that only sometimes overlap. The key areas are as follows:
Copyright - original work of authorship fixed in a tangible medium of expression
Trademark - distinctive source identifier
Utility Patent - useful & functional idea
Design Patent - ornamental design
Trade Secret - valuable and secret business information
About the Speaker:
Mr. Rilee is Patent Attorney and Senior Partner at MacCord & Mason PLLC. He earned his BS in Ceramic Engineering and MS in Materials Engineering from Virginia Tech, and the JD from the University of Akron. His prior work experience includes IP legal work at Burlington Industries and at McDermott Inc., and engineering assignments at Ford and at Babcock & Wilcox. He is admitted to the Practice of Law in multiple jurisdictions, including, of course, the State of NC and the USPTO.