PVA TePla America, Inc. M4L Plasma Cleaning System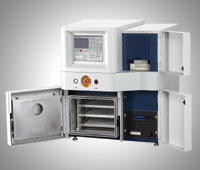 The M4L™ is full featured plasma surface modification system designed for laboratory and production use.
The M4L is ideal for:
Plasma surface modification
Plasma cleaning of organic surfaces
Bond strength enhancement
Plasma etch applications
Plasma asher applications
Increased or decreased wettability
Any other plasma system application
The entire bench top system fits in one cabinet, except for the vacuum pump. Never before has a professional plasma etch system been this loaded with features and priced this affordably!
Specifications:
Controller: Windows® O/S based touch screen interface offering fully automatic control.
Multi-step recipes, real time graphic display, multi-level password access, data logging, and real time SPC monitoring of all plasma parameters is provided.
Chamber: 9" X 13" X 20" Aluminum, with high-conductance KF 40 port and isolation valve. Optional throttle valve available.
Electrode options include 3-shelf, 5-shelf, and cage electrodes.
RF Generator: 300 or 600 watt 13.56 MHz air cooled with automatic impedance matching network.
Display: Color 10.4 inch touch screen for control and monitoring of process parameters, automatic recipes, or manual plasma treatments.
Two user specified gases, with 500 sccm MFCs standard, Optional 3rd gas channel available.
Power Requirements: 120- 240 volts, 1ø, 50/60 Hz 30 amps maximum, changeable in the field.
CE Certified
Technical Support:
800-527-5667 M-F 8am - 5pm Pacific Time.