Dr. Zhigang Xu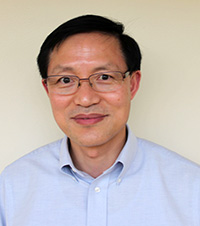 Senior Research Scientist
Mechanical and Chemical Engineering
North Carolina A&T State University
Suite #105, Fort IRC Building
1601 E. Market Street
Greensboro, NC 27411
Telephone: (336) 285-3224
Fax: (336) 256-1153
Education:
Ph.D.
in Mechanical Engineering (2002, NC A&T, Greensboro)
Dr. XU's research expertise includes materials processing and characterizations, especially in Mg-alloy processing, biomedical device fabrication, thin film chemical vapor deposition, physical vapor deposition, SEM, TEM, and XRD. He has been involved in research of Mg-based alloy biomedical materials research in ERC-RMB, solid oxide fuel cell materials processing, oxide thin film and diamond thin film processing for many years. He has the expertise in mechanical engineering, as well. He worked in mechanical engineering researching and teaching for 13 years when was in China. His present research areas include:
Melting and Solidification of Mg-alloys;
Relationship of corrosion and mechanical properties of Mg-alloys to alloy composition and processing conditions, as well as microstructures;
Deposition of thin film electrolytes for solid oxide fuel cells using chemical/physical vapor deposition, electrophoretic depositon;
Optimization of the properties of electrodes of solid oxide fuel cells;
Preparation of nanomaterials.
Resume